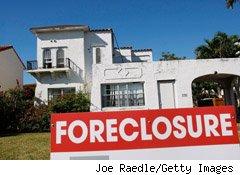 If you are hoping to find an investment opportunity, you should look no further than investing in a foreclosed home. By doing so, you may be able to save thousands of dollars, and secure a rental property as your investment. How does this work?
To begin, a foreclosed home is one where the homeowners no longer can, or wish to, make their mortgage payment. When that happens, the bank takes back title of the home, and puts it back on the market. Usually, they start by listing the house very low in hopes of selling it quickly. They just want to try and get their money back. For this reason, you can sometimes find a great deal on a beautiful home. This makes investing in a foreclosed home a great and smart choice for rental property.
If you think that investing in, or buying, a foreclosed home is right for you, then you may want to start looking at the different foreclosed properties that are on the market. To see a list of foreclosed homes in your area, contact a local real estate agent and request a detailed list of these homes. Take note of the different neighborhoods, and school zones. You will want to find foreclosed homes that are in fairly popular areas so that your property will move quickly whether you rent it out or resell it for profit.
As you look at different foreclosed homes, also pay close attention to the condition. You should have a pre-conceived idea of certain qualities that you want in a home. Everything from the number of bedrooms, to the size of the lot should be on your list. By doing this, you won't end up buying something that you are not happy with.
Next, you'll want to look into getting a home loan. If you get pre-approved, you can move forward with an offer on the home. Waiting to get your offer accepted can take some time due to the paperwork involved, so be prepared. Eventually, you will learn whether your offer was accepted or not. If so, you will be ready to begin renovation on the foreclosed home to serve your investment purpose.
When it comes to renovation, seek out some experts to advise you. It will be worth it. Check out which areas need to be addressed, then sit down and write out a list of things that need to be taken care of right away. After a while, you will be able to move forward, and put the home on the market. Always start with the bigger projects first, then move to the smaller ones as you as you have the time and money. And, as always, don't forget the outside! Curb appeal is what's going to bring in the renters and buyers the quickest.
For more information about foreclosed homes in the Orlando area please contact us.