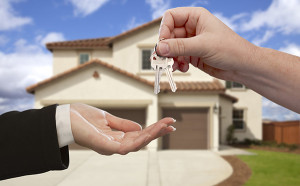 Looking for a new home? Where do you start? What is the very first step in the home buying process? Most people who are in the market for a new home like to go online to see what kind of houses are available in their targeted neighborhood. They will search homes that they think fit into their budget. That's exciting to do. But once they make that decision to formally move forward with the process they need to know how much they can afford. Unless you can pay all cash for your new home, you will need to get a mortgage loan. The bank will then determine how much you can spend on a new house. This is accomplished by telling you how much money they will lend to you for this purchase. What you think you can spend and what the bank thinks may be two significantly different numbers. Banks have all kinds of formulas they use to determine the maximum loan amount. One popular formula determines how much your new monthly mortgage payment will be as a percentage of your income. Banks also compare all your monthly expenses to your total income. Other items they look at is the amount of time you have been with your current employer, amount in your savings account and other assets, and so on. So you will definitely need to speak with your bank at the beginning of the process. That's why I believe the first step in the home buying process is to get pre-approved for a specific loan amount. It takes only a few minutes to provide a bank with minimum information about you for them to make a general decision - with no cost or future obligation to you. Within the same day they can issue you a pre-approval letter, stating the amount they believe you qualify for. Of course, they will need more details before the loan is actually issued, but this gives you a good idea. With this in hand, you can now start looking for homes in your budget. Once you find a home you like, and are ready to make an offer to purchase, you will likely need a copy of the pre-approval letter to give to the seller along with your offer. This is another reason why you need to get pre-approved at the beginning. Most sellers will not accept an offer to purchase without proof that you have the ability to purchase their property. So, if you are thinking about buying a new home, I encourage you to first speak with a lender to get a pre-approval letter. We can help you with this process. To get pre-approved,
click here
to fill out the needed information. We will then submit to our mortgage broker who will then be in touch with you to complete the process. To learn more, please contact real estate broker and attorney at law David Dowell of
Pan Am Real Estate
, by phone/text at (407) 864-2265, or email at david@PanAmOrlando.com.