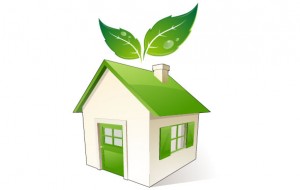 As consumers increasingly search for friendly, green homes for sale, constructing green homes is becoming a priority for many home builders throughout Orlando and the Central Florida area. Home builders are now constructing homes that are greener and friendlier for the environment and more cost effective for homeowners. Green homes can decrease your carbon footprint, can save the homeowner on monthly utility costs, and could retain their value much more in the future.
Energy Star
is known to most people. Most of us are familiar with this term as we see it listed on new appliances for sale. But this government program also certifies new home construction that is eco-friendly. Energy Stars are given to newly constructed homes that meet certain federal guidelines for energy efficiency, making Energy Star homes 20-30% more efficient than traditionally constructed homes. To qualify for an Energy Star, builders must work closely with an independent Energy Star rater, who works with the builder throughout the construction process to ensure that appropriate features - such as high-value insulation, efficient HVAC systems and Energy Star-rated appliances - are incorporated into the home. This is a voluntary process for the builders, and they have to meet minimum standards in order to be considered "partners" of the program. The United States Green Building Council's
LEED Certification
is another certification that you may find during your search for green homes for sale in Orlando and the Central Florida area. LEED (Leadership in Energy and Environmental Design) specifications measure a home's energy and water efficiency, its indoor air quality, the sustainability of building practices used in its construction, as well as the impact of the construction on the surrounding community and environment. The
National Association of Home Builders
(NAHB) also has a certification program. Becoming "Green Certified" by the NAHB Research Center requires builders to work with a third-party rater, who in turn certifies that the builder's project meets the requirements of National Green Building Standard (NGBS). The NGBS sets guidelines for green construction and land development in six different categories: • Lot & Site Development • Resource Efficiency • Energy Efficiency • Water Efficiency • Indoor Environmental Quality • Homeowner Education Green homes are becoming more and more popular with both the builders and the prospective homeowners. If you are for looking for green homes for sale in Orlando, you will have many different options. Seek the help of a
qualified real estate agent
who can assist you with your search for green homes for sale in Orlando.