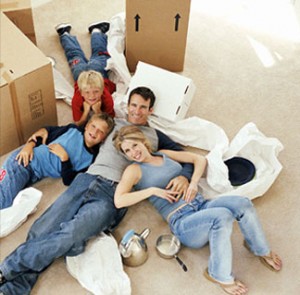 Moving to a new home can be a real challenge at times, and certainly can create stress. But it doesn't have to. With a little planning, you can make your move an easy and enjoyable experience. Whether you are moving across town or out of state, these planning tips can help you with your move. 1.  Decide if you will hire a mover or do it yourself. You probably will want to hire a mover if you have a lot of heavy items, you're not physically healthy, you're traveling a long distance, your employer is paying for the move or you can't find enough help from friends and family. 2.  Send change-of-address forms to everyone, friends, family and businesses that you deal with, as soon as you know your new address. Close out any accounts you won't need after your move, such as library cards and club memberships. 3.  Find out the utility providers at your new address. This includes your electric, telephone, water, cable and internet service. 4.  Get rid of some of your possessions--moving is a great opportunity to unload unneeded stuff. 5.  Empty the refrigerator before you move. Eat what you can, determine what you can take with you, and give the rest away if you can. Unplug the refrigerator and leave the doors open overnight so the moisture can evaporate.
Doing it yourself?
6.  Pack one room at a time, starting with the rooms you use the least, such as spare bedrooms. Use small, sturdy boxes for heavy items such as books, tools and kitchen stuff. If the contents are fragile or must stay upright, make a note of this on the box. On each box write the room the items belong to and brief description of its contents. Put the boxes in a garage or family room. 7.  Close the drawers and doors on your furniture with blue painters tape to help prevent damage to the finish. 8.  Load the truck carefully. Use as much vertical space as you can. Stand sofas on their ends, load mattresses and box springs so their long sides are vertical, and stand up armoires and tall dressers. Put tall items along the sides of the truck. 9.  Keep all important boxes and valuables in the trunk of your car, not in the moving truck. 10.  Upon arrival, bring in all the important boxes and valuables first, especially if you are not able to unload everything that day.
Hiring a mover?
11.  Call several moving companies to get prices. Make sure they're bonded, licensed and insured. Choose a company with excellent customer service. Be aware of any conditions that will trigger additional costs, such as moves over a certain mileage or goods over a certain weight. Check into any special deals the company offers. 12.  Understand how packing options affect the price. For example, if you pack certain goods yourself, can you save some money? Or pack everything yourself with portable containers that are delivered to your home. You pack them, and the company transports them to your new home. 13.  Discuss any considerations unique to your move with the moving company. Point out any large or fragile items, and ask how they will be handled. Point out issues that affect access, such as staircases, steep driveways or small attics, and be prepared to pay more for complicated moves. 14.  Get a signed contract that includes price, pick-up and delivery dates, packing services and mileage, plus policies regarding payment, insurance and claims. Make sure the contract has a customer service number on it that you can call with any problems or questions. For more moving tips, please
contact us
today or visit us at
www.YourOrlandoRealty.com
.