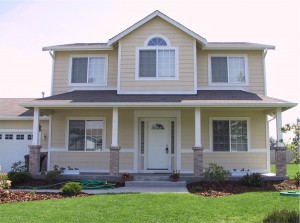 To sell your house faster in a buyer's market, there are a few things that you could do. Here are 9 home improvement techniques to help you sell your house more quickly.
1. Make sure you sell your house at the right price
I know it's very difficult to sell your house for less than what you bought it for a few years ago. It's even harder if you're upside down on your home loan.  But you can't insist on an unrealistic price if you want to sell your house in a down market. Although you can't compete with banks that are selling foreclosed homes, you'll be in a much better position to compete against other sellers who aren't as flexible on price.
2. Remove clutter from your house
No one wants to buy a messy rat hole. So make sure your house is clean and organized. Remove as much clutter as you can, even if you have to store your stuff in storage. You can get an idea of how your house should look by browsing through magazines or even IKEA catalog. And here are some general tips to help guide you:
Tables, desks, and countertops should be mostly clear to show as much surface space as possible.
Remove family photos from walls, shelves, and fireplace mantle (if you have one). You want the potential buyers to picture themselves living in the house, not looking at your family history.
Remove any unnecessary furniture and put it into storage to give your house more living space.
Remove unnecessary electronics, extension cords, and power strips. Most buyers don't care about your mega entertainment system. And you don't want it to be obvious that your electrical system is old and lacking.
Remove clothing from your closets and put it into storage to make the closets feel bigger.
Remove all the extra clutter throughout the house to make it feel bigger and more spacious. You will sell your house faster!
3. Improve your house curb appeal
First impression means a lot, and when you are trying to sell your house the name of the game is
curb appeal
. The goal here is not to spend a lot of money to improve your house, rather you're trying to do inexpensive things (that may require some sweat equity) to improve the appearance of your house. You want your house to look better than other houses in the area and in a "move in ready" condition. You will sell your house faster than your neighbors with a little curb appeal.
Here are a few things you could do to improve your house curb appeal:
Trim hedges and mow your lawn.
Clean all windows and surfaces.
Repaint walls, doors, and trims in neutral colors.
Replace old window blinds or drapes, and update the window treatments.
Power wash or paint the exterior.
4. Fix problems around the house
Now go throughout the house room by room, and take notes of all the things that need fixing. Little things matter and they could turnoff your buyers. Remember, you are trying to sell a dream house to someone. If you noticed them, the buyer will too. Take the time to go around and fix those things one by one. Remember that fixing these small problems doesn't have to be expensive, but it will take time and effort.
5. Learn the Art of House Staging
House staging is not de-cluttering and cleaning. House staging goes beyond that and happens after the steps above. It involves much less tangible things that include:
Making the house smells fresh and airy. Some will even go as far as baking cookies before a showing to give the house a pleasant aroma.
Making sure the temperature is right. You want the potential buyer to feel comfortable.
Making sure rooms are properly lit by adjusting the window treatments and turning on/off lights.
Arranging pieces of furniture in an appealing manner.
Putting vases of fresh flowers on tables, or a small fruit basket on the dinning table.
Showcasing various fabrics, decors, and knickknacks.
Arranging items on shelves, bookcases and fireplace mantels to draw attention to predetermined areas.
6. Get a good real estate agent to help you sell your house
In general, it's better to work with a real estate agent than trying to sell the house on your own. It's their full time job to find buyers and show your house. This is harder than it looks and it's generally better to leave this to the pro. Remember, you're not just trying to show everyone that you have a great house, but you want ton actually sell it!
7. Be creative
This is a buyer's market, but even so, a house is still very expensive for most people. If you have a buyer that needs help to close the deal, consider offering some sort of incentives to make the deal happens. For example, you can offer to cover some parts of the closing costs. This works especially well with first time home buyers.
9. Don't be there!
When your real estate agent is trying to show and sell your house through an open house, leave the house. It's uncomfortable for you to have strangers in your home, and likewise, it's uncomfortable to be in other people's home. So why create any more tension? Leave the house and let your real estate agent takes care of business. Let your buyers look around at their leisure without your scrutiny. Selling your house in a down market isn't easy, but you can do some work to make your chances better.  In the end your house will show better, and you'll be able to sell your house that much quicker. For more information, please
contact us
.