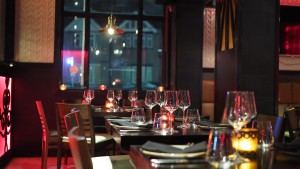 Dr. Phillips' Restaurant Row has become the new jewel of upscale Orlando. Sand Lake Road in the Dr. Phillips area of Southwest Orlando is a great example of the exciting growth that the Orlando area has seen over the last several years. The one mile stretch of road between Interstate 4 and Apopka Vineland Road, commonly referred to as Restaurant Row, has a concentration of some of the highest quality and upscale restaurants that you will see anywhere in the United States.  
Most of the tourist action is concentrated near International Drive and Disney's Lake Buena Vista area, so Dr. Phillips retains a friendly, local flavor. Restaurant Row, and it's many retail shops, is primarily comprised of five shopping centers – The Fountains, The Rialto, Plaza Venezia, The Dr. Phillips Marketplace, and Dellagio.
The Fountains includes top restaurants such as Ruth's Chris, Moonfish, Vines The Melting Pot and Raga. Plaza Venezia includes Rocco's Tacos, Eddie V's, Bonefish Grill, Roy's Hawaiian, Cedar's, Seasons 52 and Amura. The Marketplace has favorites like Chatham's Place, Morton's of Chicago, Christini's and Cariera's by Castelli. At Dellagio you will find Bravo, Cantina Laredo, Flemings, Big Fin and Dragonfly. At the Rialto is Ocean Prime and Bar Louie.
Of course, you will also find casual favorites such as Panera Bread, Einstein Bagels, Starbucks, Chick-Fil-A, and others. So no matter what type of food or atmosphere you are looking for, Dr. Phillips' Restaurant Row is sure to offer you many choices.
If you are looking to find a home near Dr. Phillips' Restaurant Row, or need someone to answer a few questions about this great area, please contact Realtor and Attorney at Law David Dowell by phone/text at (407) 864-2265, or email at david@yourorlandorealty.com