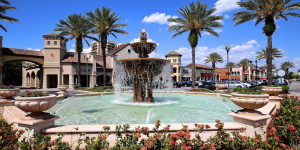 Why Do People Live in Dr. Phillips?
Dr. Phillips is a beautiful neighborhood of single family homes that is conveniently located just 10 miles southwest of Downtown Orlando. It's not uncommon to see neighborhood kids playing outside on a warm sunny day. It's far enough from the main hustle and bustle of the city, and of the tourist sector, that residents don't feel like the commotion is knocking on their door.
Looking for a home in Dr. Phillips?
Interested in finding homes for sale in the Dr. Phillips neighborhood of Orlando, FL?
Click here
to find all the currently available homes in this area of Orlando.
What's the Neighborhood Like?
Many Dr. Phillips subdivisions are not gated, as this is such a safe and family-oriented community. Most homes you would expect to find for sale in the Dr. Phillips neighborhood are generally going to range between 2200 and 4000 square feet, with the majority of the homes built over the past 30 years. The most recent subdivision to be built, Parkside, is currently under construction. Many of the established homes have had updates and the smallest homes in the neighborhood typically start with 3 bedrooms, while the larger floor plans have a four bedroom layout with some models putting the master bedroom on the main floor.
What's Going on Nearby the Dr. Phillips Neighborhood?
Dr. Phillips is located near the exciting entertainment areas of International Drive and Disney's Lake Buena Vista. There is a major hospital located in the neighborhood as well as just about every kind of conceivable shopping in walking distance. Orlando's famous Restaurant Row lies in the heart of Dr. Phillips and the upscale Mall at Millenia is just a few minutes away. Find out
more information
about Dr. Phillips, including descriptions of some of the better known subdivisions.
What Schools will the Kids Attend?
If you buy a home for sale in the Dr. Phillips neighborhood of Orlando, the local schools serving this area are Dr. Phillips, Bay Meadows and Sand Lake Elementary Schools, Southwest Middle School, and highly-rated Dr. Phillips High School. To get local school scores and more information about these schools check out the
Orange County Public Schools website.
Now You Really Want to Find a Home Here, Right?
If you are looking to find a Dr. Phillips area real estate agent to help you buy or sell a Dr. Phillips area home, please contact Real Estate Broker and Attorney at Law David Dowell by phone/text at (407) 864-2265, by email at david@PanAmOrlando.com, or visit us online at
www.PanAmOrlando.com
.