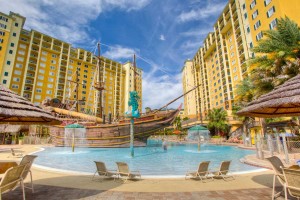 Central Florida seems to be one of the hottest markets in the United States right now. Much of that is fueled by the foreign investments in the vacation home market around the Walt Disney World Resort. One of the most popular resorts, and one of our personal favorites, is the Lake Buena Vista Resort Village.
The Lake Buena Vista Resort is a condo hotel – it looks and acts like a large resort hotel but each unit is individually owned. The owner can stay in his/her unit anytime they would like. But, when the owner is not using it, the resort will rent out the room on behalf of the owner. This is a great deal and investment for the owner. This resort has a high occupancy and is able to charge high room rates. In fact, the resort can even guarantee that the owner will receive a 6% return during the first two years!
Condo/hotels are becoming very popular in the Orlando area but none more so than the Lake Buena Vista Resort. This is a full resort with restaurants, health spa, fitness center, meeting rooms, convenience store, game room and pirate-themed pool and aquatic center. The resort is connected to the Lake Buena Vista Factory Outlet mall – one of Orlando's favorite shopping destinations.
Rooms have 2, 3 or 4 fully furnished bedrooms and are priced from $269,000 to over a million dollars for the penthouse units. Rooms are furnished with Tommy Bahama style amenities with whirlpool spa, large screen TV, granite counters, and washer and dryer.
If you are in the market for an investment in an Orlando area property, be sure to check out this resort. To learn more about the Lake Buena Vista Resort, or other vacation investment homes, or for a full list of properties for sale, please contact real estate broker and attorney at law David Dowell, by phone/text at (407) 864-2265, by email at david@PanAmOrlando.com, or visit us online at www.PanAmOrlando.com.