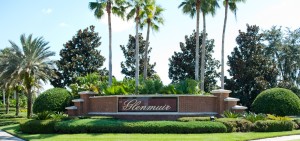 Looking for a home for sale in Glenmuir, Windermere, Florida? Glenmuir is a beautiful, gated community of luxury single-family homes in Windermere Florida, and is located on the west side of Windermere at the intersection of SR 535 and Chase Road.
Adjacent to Lake Butler Sound, the Glenmuir community features beautiful Mediterranean-style homes with tile roofs and Florida architecture. Most homes have 3 to 5 bedrooms, range from about 2000 to 3600 square feet and are set upon spacious lots. There are about 225 homes in the subdivision, most built between 2001 and 2003. Among the amenities available to residents are basketball courts, volleyball courts, a soccer field, playgrounds, a pavilion and a large park.
Interested in homes for sale in Glenmuir?
Click here to find all the currently available homes for sale in Glenmuir, Windermere, Florida.
What's to do near the Glenmuir neighborhood?
The Windermere, Florida community of Glenmuir is located about 6 miles north of the Walt Disney World resort and is within close proximity to the Universal Studios and Sea World parks, world-class shopping at the Mall at Millenia, casual outdoor strolling at Winter Garden Village, upscale dining in Dr. Phillips' Restaurant Row, various parks and recreational activities, and Orlando area hospitals. Glenmuir residents don't need to travel far to enjoy all of Central Florida's finest boating, fishing, water sports, and golf activities.
What schools will the kids attend?
The Glenmuir community is served by the Orange County Public School System and has some of the best rated schools in the state.
Windermere Elementary School
11125 Park Ave.
Windermere, FL 34786
(407) 876-7520
Bridgewater Middle School
5600 Tiny Rd
Winter Garden, FL 34787
(407) 905-3710
West Orange High School
1625 Beulah Rd
Winter Garden, FL 34787
(407) 905-2400
Now you really want to find a home in Glenmuir, right?
I hope you found this article about homes for sale in Glenmuir, Windermere, Florida, helpful. If you are interested in the current homes for sale in the Glenmuir neighborhood in Windermere, click here to view all the available homes. Our property search engine is a direct feed from the local Orlando MLS and is updated daily.
If you are looking to find a Windermere area real estate agent to help you buy or sell a Glenmuir home, please contact Real Estate Broker and Attorney at Law David Dowell by phone/text at (407) 864-2265, or email at david@PanAmOrlando.com